Sunrise: 07:34, Sunset: 17:59 in Cardington today.
Join/Renew
My E-Card
SPOCO
Ev. League
Rules
BikeBox
Go-Ride for cyclists aged 6 to 16
Latest News:
First Muddy Monsters Dates
But before we get to that we had some riders competing again last week at the Central CX league.
Big congratulations go to Cecilia who came 2nd in her race whilst Jake, Thomas, Emily, Alexander and Sophie also recorded good results.
We'll be at the Priory on Saturday from 9am so hope to see you there.
Dates for the Muddy Monsters races have been issued. We are still trying to arrange a date for ours, it's proving to be frustrating but we will persevere - the most likely date is sometime early in the New Year.
The dates that are confirmed are:
November 10th - Ashwell
Nov 17th - Welwyn
Nov 24th - Hitchin
Feb 9th - St Albans
Feb 16th - Ashwell
March 2nd - Welwyn
More details to follow as we get them.
See you this Saturday, 13th October
Sam, Peter and Brian
More Cyclo Cross
Congratulations to Jake and Cecilia who finished 7th and 4th respectively in their CentralCX races last weekend.
We should also give a mention to Ella Ruggles and Ewan Grady who had good rides for their clubs.
We'll be back at the Priory on Saturday 6th October, meet at the totem at 9am as usual.
We're trying to agree a date for the Muddy Monsters race - 3 races have been pencilled in so far by other clubs and we are in touch with our British Cycling Go Ride coach and the Council. We'll keep you posted.
Sam, Peter and Brian
Priory Marina - Saturday 29th Sept
We had seven riders in action at Campbell Park in the Central CX League event last Saturday, 22nd Sept.
Well done to Emily, Cecilia, Thomas, Alexander, Jake, Sophie and Harry.
Next week's race is on Sunday at Prologis in Glendon, near Kettering.
We're continuing our focus on CX skills this Saturday 29th Sept. and will be meeting at the Priory Marina again, a chance to fine tune if you are racing on Sunday!
See you Saturday
Sam, Peter and Brian
20 Sept 2018: Racing and Coaching
You're spoilt for choice again this weekend with another cyclo-cross race in Milton Keynes, whilst for those not racing, we will be meeting at Priory Marina.
Well done to those that raced at he Bowl on Saturday: Emily made her debut in the Under 8 race whilst Cecilia was third in the Under 10 event. Thomas came well inside the top half of the field in the Under 12 boys and Jake recorded his best finish to date in the Under 14s, whisper it but he beat one of the club's road race team members in the process!
Not to be outdone by her brother and sister, Sophie came 6th in the Under 14 girls' race.
For those of you racing this Saturday, don't forget that the event takes place at Campbell Park, a chance to ride at the venue for the World Cup race a few years ago.
If you're not racing then we'll see you at the totem in Priory Marina for a 9am start, returning at 10:30 as usual. For those of you receiving this email for the first time, the totem is between the main car park and the cafe, reply to this email if you want any further details.
Discussions have started again for this year's Muddy Monsters series and we hope to stage our own event this year - weather and cross country running permitting! We'll keep you posted as dates are agreed.
Good luck to those of you racing, see the rest of you on Saturday
Sam, Peter and Brian
2 Sept 2018: Hope You Had a Good Summer
Not quite all over yet but the summer holiday is due to finish any day now so it must be cyclo-cross season soon!
Thanks to the Tour of Britain and the Vuelta, cycling is all over the TV at the moment, don't forget that our latest Tour de France winner will be riding the streets of London next Sunday - worth going to see.
Meanwhile we'll be starting another season by riding at Priory Marina on Saturday. We'll be in the usual place by the totem for a 9am start. There are some new people receiving this email so if you have any questions just reply to this email.
Over the course of the next few weeks there are three CX races being held in Milton Keynes, two at the Bowl and one at Campbell Park - the latter was the venue for a World Cup race a couple of years ago.
Dates for these races are on the Central League website and if there sufficient riders planning on competing then we will be attending all of these. If you haven't raced before then come along to the first race and see how you enjoy it.
The dates for the MK races are as follows:
Sept 15th - The Bowl
Sept 22nd - Campbell Park
Oct 6th - The Bowl
Nov 17th - The Bowl


As in the last few years the cost of attending sessions will be £3 for the first child in a family and £2 for each subsequent child. Again, for any new riders you just need a bike in good working order and a helmet.
It's a bit early for planning the Muddy Monsters races but we will be talking to the other clubs so will keep you posted as to the races for this season - they usually start in December.
Looking forward to seeing you Saturday.
Sam, Peter and Brian
Danish Camp on Saturday 21 July 2018
It's the start of the summer holidays and British riders are first and second in the Tour de France - must be time for our end of season ride at Danish Camp.
For those of you who have not ridden from here before, the address is:Chapel Lane, Willington, MK44 3QG
We'll meet in the car park adjacent to the restaurant at 9am and ride along the cycle route, returning to the restaurant at 10:30. Parents are welcome to come along with us, we will be checking that those of you who own a bike have brought it with you!
Plan is to ride as far as we can, we'll split into groups so that everyone can ride at their own pace - nobody will get left behind (Go Ride member or parent!).
Once we return, refreshments for our younger riders are on us - the owner of the restaurant has asked us to order from the kiosk - the terrace that we have used in the past is being used this Saturday but as the weather looks good we'll probably be better off outside.
See you Saturday
Sam, Peter and Brian
Last But One Session, 14 July 2018
Our last session before the summer break at the Priory is this Saturday, 14th July - meet at 9am at the totem.
If you are planning on joining us the following weekend but haven't let us know yet can you drop me an email please.
See you Saturday
Sam, Peter and Brian
Priory Marina to Ourselves - 7 July 2018
Hopefully we won't have to make way for any runners this Saturday, we'll meet at the totem at 9am as usual.
Just a reminder that if you are joining us on the 21st can you let one of us know so that we can confirm numbers.
Don't forget to bring a drink whilst the heatwave continues.
See you Saturday
Sam, Peter and Brian
Box End on Saturday 23 June
Another change in scenery this Saturday, 24th june, as we are going to ride at Box End. For those of you who have not been there before the address is:
Box End Road, Kempston, MK43 8RQ.
[website]
The park offers us a variety of different types of terrain so we can practise a range of skills.
We meet in the far right hand corner of the car park, please be aware of cars and pedestrians and do not ride in the area outside the clubhouse, even though it makes an ideal mini-velodrome!
See you Saturday
Sam, Peter and Brian
Back By Popular Request for 16 June 2018
Seems like everyone particularly enjoyed the session at Chicksands a few weeks ago so we'll be back there this Saturday, 16 June, to make the most of the climbs and descents.
Strictly speaking it's Rowney Warren woods that we will be riding in, the car park is on Sandy Lane - SG17 5QB. We'll plan to get on our way at 9:00am and return as near to 10:30am as our speed and knowledge of the routes through the woods allow.
Parents are welcome to ride with us. We may split into a couple of groups depending on the age range of the riders (excluding parents) to ensure that nobody gets left behind or held up but we will meet at various stages as one group.
See you Saturday
Sam, Peter and Brian
Priory Marina on Saturday 9 June
Just to prove that we can ride at the same place two weeks running we'll be at the Priory Marina again on Saturday 9 June.
You know the drill, meet at the totem for a 9am start, back again at 10:30.
See you Saturday
Sam, Peter and Brian
Route 51 on Saturday 26 May 2018
For those you who don't have better plans for the Bank Holiday weekend, the weather forecast looks good so we are going to take advantage by riding along Route 51 towards Sandy on Saturday.
We'll meet at Danish Camp at 9:00 and head along the cycle route - plan is to be back by 10:30 and maybe get some refreshments if it's warm.
For those of you who haven't been before the Danish Camp car park is off Chapel Lane, Willington, MK44 3QG.
See you Saturday
Sam, Peter and Brian
Rowney Warren: Saturday 19 May 2018
Some of you may know this as Chicksands but on Saturday we will be riding in the woods at Rowney Warren. For those of you who have not been before this is not the bike park but the woods where there are trails for cyclists.
Cyclo-cross or mountain bikes will be fine and we will be picking some hill climbs, descents and trails to ride around. We haven't ridden here for some time but it is great fun as well as an opportunity to improve your bike handling skills.
If parents want to bring their bikes and ride with us they are welcome.
Times are as usual (9am start - 10:30am finish) and we will be meeting in the car park on Sandy Lane, the postcode is SG17 5QB
[MAP]
See you Saturday
Sam, Peter and Brian
12 May 2018: New Venue and GDPR
We're going to meet at the Beds Road Club House this Saturday 12th May at 09:00, the address is Southill Road, Cardington MK44 3SX. This is a new venue for us as a group but we want to try out the routes around Cardington as they offer us a few more opportunities to do some group riding and there are some small climbs to keep your heart rates up! We won't be riding on roads, the route is off-road.
For those of you who have not been before the clubhouse is a small building on the right hand side of the road as you leave Cardington towards Old Warden/Ireland. There is no car park so please be conscious of access to houses etc. for local residents if you park on the roadside.
Timings are the usual 9:00 start and 10:30 finish.
I'm sure most of you have been receiving correspondence over the last few weeks from organisations that hold your personal data. New regulations come into force on May 25th which, amongst other things, require organisations holding personal data to be able to show that they have a justification for doing so.
We hold contact and other data for all of our riders and we also have a list of email contacts which you are on - otherwise you wouldn't be getting this email. To ensure that the information we have complies with the regulations we are going to be doing 2 things over the course of the next couple of weeks:
Firstly, we will ask everyone to complete a new parental consent form. Apologies if you have done this recently but we need to be sure that the details we have for you and our riders are accurate.
Secondly, if you receive an email from us but do not have a son/daughter who rides with us then we need you to reply to that email to confirm that you are happy for us to hold your email address and continue to contact you. If we do not receive this confirmation by May 25th we will remove you from the list.
If we don't see you before the 25th and you do have a rider then please confirm that you want to continue receiving emails by replying to us.
Thanks for your help
See you Saturday
Sam, Peter and Brian
Muddy Monsters and the May Bank Holiday Weekend
Well done to all our riders who raced at Hitchin last weekend, some great races on a new course.
Jake and Cecilia both won their races and there were podium places for Amelie, Delphi (on her race debut), Thomas, Sophie and Ella.
Jack rode strongly in the Under 14 race and finish of the day saw Rebel, Thomas and Sophie all turn into the finish straight together before Thomas just won the sprint finish.
On Saturday we are going to meet at the totem and ride out along Route 51 so that we can put a few miles in and practice some group riding.
See you Saturday
Sam, Peter and Brian
"Not Too" Muddy Monsters - Sat. April 28th
This weekend could see the driest, warmest course on record.
It's the Hitchin Nomads race, details can be found on their website -
https://hitchinnomads.cc/
This race doesn't count towards the season totals, it is just a one-off but the timings and format are the same as always.
We've also received details of some races that are taking place in the half-term holiday which some of you may be interested in. They're being held at Wembley Park on the day of the Tour Series professional criterium and details can be found here:
https://www.britishcycling.org.uk/events/details/179026/Youth-Races-at-Wembley-Tour-Series
They are intended for Youth riders so there will be separate Girls and Boys U14/U16 races and then an U12/U10 race which looks as though it is for boys and girls.
See you Saturday
Sam, Peter and Brian
Muddy Monsters Returns: Saturday April 28th
Well, sort of....
Hitchin Nomads CC are going to stage the round that was cancelled due to snow earlier this year. The races will not count towards the overall series, they are just a one-off, but they are being staged on Saturday April 28th.
There are not many opportunities to race in the summer so we will not hold a coaching session that day but hope that as many of you as possible are able to compete.
Details of the event can be found at
https://hitchinnomads.cc/
In the meantime, we'll see you this
Saturday, 21st April at 9:00am
by the totem in Priory Marina Park as usual.
See you then.
Sam, Peter and Brian.
Priory Marina on Saturday 14th April
This Saturday's session will be at the Priory, hopefully the rain will have stopped by the weekend!
Meet at the Totem at 9am as usual.
See you Saturday.
Sam, Peter and Brian
We're Back: 7 April
Hope you all had a good Easter, not sure the weather was suitable for riding so we'll try and put that right this weekend.
To start our summer season off (well the sun came out today so we can pretend) we'll meet at the totem next to Priory Marina car park at 9am on Saturday 7th April.
We'll let you have further dates and venues where we know them in the next week or so.
See you Saturday
Sam and Brian
The Priory on Saturday 17 March 2018
I told you that last week's Muddy Monsters finale would live up to the name!!
Well done to all our riders who somehow managed to ride, walk and slide their way through the mud at Welwyn on Saturday.
I'm afraid that the results have not been published again and because I had to leave before the presentations I don't know the final season positions. I will chase the organisers but hopefully those of you who did finish on the season end podiums know who you are and received your medals etc on Saturday.
I'll make sure I share the results when we receive them but in the meantime congratulations to Jake, Harry, Jack, (shoeless) Ella, Amelie, Cecila and Will for finishing each race.
This Saturday will be our last before Easter as all three of us are away on the 24th March. We'll meet by the totem in the main car park at Priory Marina at 9am as usual.
As we've all had enough mud to last us for a few weeks we are going to ride out to the cycle path on Route 51 and we'll be back by 10:30 as usual. Just in case you thought spring has arrived it is forecast to be cold and windy so come prepared!
Our next session will be in 3 weeks time, on April 7th.
By way of advance notice a number of people have suggested that we take part in the Icknield sportive on Sunday April 29th.
Details can be found at
http://icknield-roadclub.org.uk/irc-sportive
There is a 15 mile event which will probably be the best for most of our riders. Entry for Under 16's is free but they must be accompanied by an adult. Please note that neither Sam, Peter nor I can be that adult (unless we are riding with our own kids of course).
We'll sort the details out nearer the date, if you want to ride let us know either at a session or by email and we can ensure we meet and, where practical, ride together.
See you Saturday
Sam, Peter and Brian
Last Muddy Monsters Race 10 March 2018
It's the end of the cyclocross season this Saturday with the final Muddy Monsters race being held at the track at Welwyn. Given the weather over the last couple of weeks I suspect this event is going to live up to its name!
The venue is at Gosling Sports Stadium, Stanborough Road, Welwyn Garden City, Hertfordshire, AL8 6XE and you can find out more at:
https://www.britishcycling.org.uk/events/details/167435/Muddy-Monsters---Round-8#Zk86GPPhj1l0DFS2.99
Races start at 10:00 as usual.
The current standings and results from Ashwell haven't been published still, I will try and get hold of them before Saturday if I can.
See you Saturday
Sam, Peter and Brian
Races on Saturday 3 March Cancelled
Hitchin have just taken the decision to cancel this Saturday's Muddy Monsters races because of the weather. The course is frozen and the forecast means that it is unlikely to change.
Ordinarily we would arrange a session instead, but under the circumstances, we hope you will agree that we should put the safety of our riders first, so we won't be riding this Saturday.
Stay inside and watch the British team competing in the World Track Cycling Championships instead!
Sam, Peter and Brian
Muddy Monsters Round 6 on Saturday Feb 24th
It's back to Muddy Monsters action on Saturday with another visit to the grass track at Ashwell.
As always, registration is at 9:30 and the races begin at 10:00am. For those of you who haven't been before the address for the venue is:
Ashwell Grass Track
Small Gains Lane
Off Station Road
Ashwell
SG7 5LT
The course is at the end of what appears to be a farm track, there are usually banners at the entrance to reassure you that you are in the right place.
More details are at
here
Most of our riders are in contention for podium places at the end of the series and the more races you are able to enter, the greater the chance of getting the best overall result. Let's hope we can continue the good results everyone has achieved so far this season.
See you Saturday
Sam, Peter and Brian
Priory Marina on Saturday 17 Feb.
More good results for our riders at the Muddy Monsters event at St. Albans on Saturday.
Jake and Harry continued their domination of the Under 14 category with Jake's first place in the longer event meaning he took overall victory after Harry won the sprint race. Spare a thought for Ella who has to race the Under 14 boys each time as she is the only entrant in her age group most weeks.
Cecilia came third in the Under 10's race whilst Amelie and William recorded 4th and 5th place finishes respectively.
The number of races counting towards the overall results has been reduced from 5 to 4. At present Cecilia, Ella and Amelie are leading their age groups whilst Alexander is 5th in his.
In the Under 14 boys group Jake, Harry and Rebel respectively currently occupy the first three places.
We'll be meeting at the totem at Priory Marina this Saturday, usual times.
See you Saturday
Sam, Peter and Brian
St Albans Muddy Monsters on Saturday 10 Feb 2018
It's round 5 of the Muddy Monsters series on Saturday and the race is being hosted by Verulam Cycling Club.
Details can be found here:
https://www.britishcycling.org.uk/events/details/167432/Muddy-Monsters---Round-5
The address of the venue is:
Marlborough Club
Via Old Oak Off Cottonmill Lane
St Albans
AL1 2EF
As always, sign on is at 9:30 and the races begin at 10:00.
Results have been published for the race at Icknield but unfortunately the organisers didn't record all of the names of the riders so they only have race numbers. I've managed to work out all but one and have asked the organisers to update their records so I am able to confirm those of you who didn't finish in a podium position as follows:
Alexander finished 4th in both races and was also 4th overall.
William was 5th in the sprint and 6th in the longer race so came 5th overall.
Good luck to those of you racing on Saturday
See you Saturday
Sam, Peter and Brian
---
30th Jan 2018 - Box End on Saturday
Some great performances from our riders at the Icknield Muddy Monsters event on Saturday, official results have not been added to the website yet, we'll let you know as soon as we have them.
What we do know however is that Cecilia and Jake both won their age groups. Cecilia won the sprint race and was second in the endurance event whilst Jake won both of his races, riding especially well in the longer event. Harry finished second behind Jake in both races, he had breathing problems in the endurance race and almost literally rode himself to a standstill, just managing to cross the finish line - a very brave ride.
Ella competed in the same races as Jake and Harry and finished 4th both times, followed by Rebel.
Amelie led the handicap race from the start, finally being overtaken with the finish line in sight to come second.
Alexander and William, riding his first race, both rode well and were not far off podium finishes.
This weekend we will be riding at Box End, for those of you who have not been before, the address is Box End Rd, Kempston MK43 8RQ. We'll meet in the car park at 9:00am and return at 10:30am.
See you Saturday
---
25th Jan 2018
Unfortunately we've had to cancel our Muddy Monsters race on February 3rd. The Priory Marina is very wet and there is little doubt that 50 riders would do it some considerable damage.
The Council have to consider the needs of other users of the park so have asked us not to stage the event.
It's disappointing but hard to disagree with their view and we want to maintain the good relationship we have with them.
Thanks to those of you who offered to help us run the event.
We will hold a coaching session on the 3rd, probably at Box End, we'll send the details out next week.
In the meantime, hope to see you this Saturday
---
24th Jan 2018 - Muddy Monsters this Weekend
Round 3 of this year's series is being held this Saturday at Harlington. The address of the venue is:
Harlington Village Hall
Sundon Road
Harlington
LU5 6LS
There is a charge of £4 per rider to compete.
Signing on starts at 9:30am with the races due to start at 10:00am. As in previous events there will be 3 races for each age group - a short time trial, followed by a longer race and then a handicap race in which everyone rides.
There has been some uncertainty amongst all of us about the age groups for the Muddy Monsters races because they differ from other events. For clarification, the criteria are as follows:
Under 8's - born in 2010 or later
Under 10's - born n 2008 or 2009
Under 12's - born in 2006 or 2007
Under 14's - born in 2004 or 2005
Under 16's - born in 2002 or 2003
For those of you who have not raced before this is a great way to start, the events are intended to be fun and are not taken too seriously. We've had some good results in the first two rounds so let's have a good turnout again and build on our success.
Our own race is scheduled to be the following weekend but at the moment it is looking unlikely that it will go ahead. The Council Leisure Dept are concerned that the Priory is very wet this year and we may damage it. Those of you who were there last Saturday will know that the grass got very muddy and after more days of rain, 50 Muddy Monsters riders will make it much worse.
I am going to speak to the Council tomorrow and will let you know the outcome. If there is no race, we will have a normal coaching session.
---
17th Jan 2018 Priory Again on Saturday
Just a short one this week to remind everyone that we are at the Priory this Saturday, meet at the Totem at 9am as usual.
Also, congratulations to Peter who passed his Level 2 British Cycling training course last week - we are now spoilt for choice with three coaches!!
See you Saturday
Sam, Peter and Brian
We are keen to help children develop an interest in cycling, as a healthy, social and fun way of keeping active.
We are accredited by British Cycling and have earned the Clubmark certificate as a club which is well run, community spirited and with a proper understanding of our Duty of Care to our members.
Whether it's a spin in the back garden, splashing through puddles in the park or tearing around a local pump track: cycling is an essential part of growing up.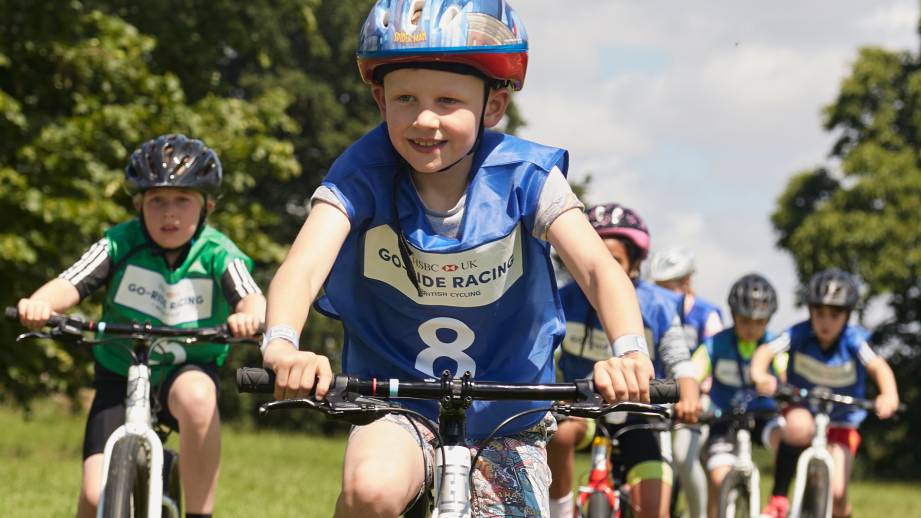 Embracing this approach, British Cycling created the HSBC UK Go-Ride programme - with over 350 children's cycling clubs helping thousands of young people enjoy the freedom of cycling and develop lifelong skills.
Local kids' cycling clubs are fantastic places to get out on a bike, with expert coaching, a gang of riding buddies and access to some amazing cycling facilities.
Our sessions are mostly run at Priory Park near Bedford, a safe, off-road environment. In addition we arrange for the children to compete at local GoRide races in a truly friendly and inclusive atmosphere.
With most of the Great Britain Cycling Team starting out in Go-Ride Clubs, they are a great place to start for aspiring champions.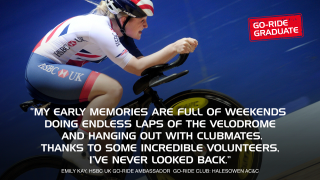 Emily Kay Go-Ride Graduate
Clubs for kids: Go-Ride Clubs are for riders under 18, with fun at the heart of high quality coaching sessions and a clear pathway for progression.
Gives parents peace of mind: All coaches hold a British Cycling qualification and are DBS-checked, plus Go-Ride sessions will always take place in traffic-free areas.
Easy to get involved: Just like any sports club, the emphasis is on regular, local and affordable activities to make it easy to keep coming back and create a sporting habit for life.
Creates champions: Most of the Great Britain Cycling Team's biggest stars started out at a Go-Ride Club. Just like Laura and Jason Kenny!
Read more at
The British Cycling goRide site